Friendly Dentist in Ashburn, VA | Lux Dental Center
Your Local
Ashburn Dental Practice
Our team at Lux Dental Center takes great pride in our work. After all, your smile is on display every day. Each member of our team has dedicated a significant amount of time to the dental field and is incredibly passionate about what they do. With the combined experience of Dr. Lynn Alexander, Dr. Jason Kiangsoontra, and our group of dental professionals, your smile will be cared for with the utmost precision and compassion. We hope to change the way you feel about dentistry, one appointment at a time.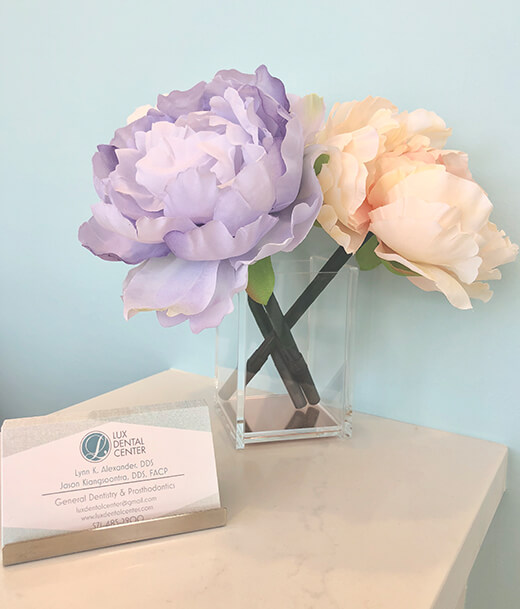 Dr. Lynn Alexander
Prosthodontist & General Dentist
Dr. Lynn Alexander is a compassionate dentist who believes in taking the time to truly listen and develop relationships with her patients. She strives to put them at ease by answering all their questions and practicing ethical, minimally-invasive dentistry.
Dr. Alexander obtained her Doctor of Dental Surgery degree from Rangsit University. She then completed a three-year prosthodontic residency at the University of Minnesota, where she received extensive training in implant surgery and complex dental restorations.
After her residency, Dr. Alexander became an assistant clinical professor at the University of California, San Francisco School of Dentistry where she was director of the pre-doctoral implant program. While at UCSF, she earned the Xi Psi Phi Teaching Award and the Admiral Paul Riebe Award for Excellence in Teaching. She is also a member and spokesperson for the American College of Prosthodontists.

Dr. Jason Kiangsoontra
Prosthodontist & General Dentist
Dr. Jason Kiangsoontra also completed his Doctor of Dental Surgery degree at Rangsit University, where he graduated with first class honors. He later completed his prosthodontic residency and Master of Science degree from the University of Minnesota. Through his training, he was able to master a wide range of complex restorative treatments including implants, dentures, crowns, bridges, and implant surgery.
Following residency, Dr. Kiangsoontra completed a rigorous four-part examination to become a board-certified prosthodontist. Dr. Kiangsoontra is one of only 900 prosthodontists in the US to achieve this status. He is an active member and Fellow of the American College of Prosthodontists, and strives to stay updated with the latest treatment developments for his patients.
Our Commitment To You
It's our mission to make you feel heard and cared for when you step into our office. We understand that many people do not enjoy visiting the dentist, but we hope to make it a more delightful experience. We vow to always provide you with honest advice to help you make well-informed decisions regarding your oral health. The bottom line is—we practice dentistry with integrity every day, with every single patient.